Survey
Perspectives on Managing Patient Responsibility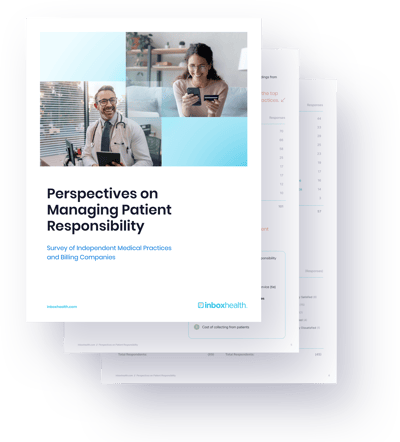 Rising patient responsibility has transformed healthcare. The trend is a catalyst for increased patient consumerism. Inbox Health conducted a survey to better understand the unique challenges practices and billing companies face as 30% of providers' revenue now comes directly from patients.
The survey features data from 140 practices and billing companies. Notably, 50% of providers have had a patient leave their practice because of a perceived billing issue. The report includes:
An analysis of how rising patient responsibility impacts the operations of medical practices and billing companies
How practices and billing companies are utilizing available solutions today and how they see it shifting in the future
Top priorities for 2022 and beyond
Download the full report to learn how medical practices and billing companies are approaching patient A/R in today's healthcare era.
*by submitting this form you are agreeing to receive emails from Inbox Health
What people are saying about Inbox Health
"The traditional way of doing billing is not going to cut it anymore, from both a profitability and technology standpoint. The time to get ahead of the curve is now."

John Gwin, CEO
The Auctus Group
"I've never seen this much collection on patient balances."

Diana El Masri, President
Elite Medical Billing
"Compliments to the organization for having the clearest explanation of billing due, dates, components and bits that I have ever seen. Please communicate to the folks doing the hard work on the non-medical side."

Patient,
Dermatology Associates